Guests can also take advantage of Taco Tuesdays, Burger Wednesdays and the Fun-filled TopGolf Swing Suites at The Hive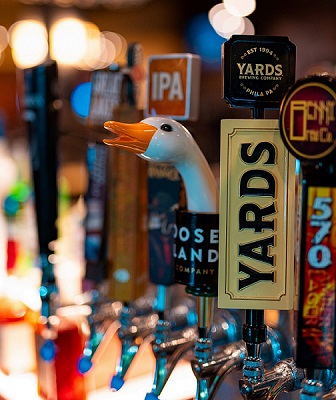 Launched this past summer as part of a major property upgrade, The Hive Taphouse at Mohegan Pennsylvania boasts a great lineup of local music as the winter months approach. New seasonal beers are also on tap, as is every big football game, every week. The Hive Taphouse is also home to two popular TopGolf Swing Suites, and special themed nights like Taco Tuesdays and Burger Wednesdays, where guests can take advantage of half-price tacos and burgers!
Live Entertainment Calendar (all performances begin at 9:30pm)
Hoopla Band Lite | Friday, December 30th
Hoopla Band Lite brings an always energetic show playing nostalgic hits from yesterday and today. This band hailing from Wilkes-Barre, PA and fronted by female and male singers bring a dynamic performance every time it hits the stage.   Don't miss them on Friday, December 30th on stage inside The Hive Taphouse!
Dueling Pianos featuring Doug Delescavage and Jennifer Hunter | Saturday, December 31st
Talented musicians with battle it out during a New Year's Eve celebration not to be missed at The Hive Taphouse. Doug Delescavage is a Berklee College of Music alum, a vocal instructor, piano instructor and the front-man for Philadelphia Freedom – a Tribute to Elton John. Doug will face-off with another incredible piano talent in Jennifer Hunter, who graduated from West Chester University and now teaches music, in addition to serving as an acclaimed music director and keyboardist for over thirty musicals in NEPA!
Stealing Neil | Saturday, January 7th, 2023
Stealing Neil is a four-piece high energy Rock band hailing from NEPA, playing rock hits from Pearl Jam to CCR to Bruno Mars!
Ostrich Hat | Saturday, January 14th, 2023
From the Finger Lakes of New York to The Atlantic City New Jersey Boardwalk and back home in the Pocono Mountains, Ostrich Hat has been entertaining crowds for a decade.
Their high energy show contains all upbeat songs from every genre of Pop music. An Ostrich Hat show is entirely live, as no prerecorded backing tracks are used!
CC Music | Friday, January 20th, 2023
CC Music features musicians Chris Iorio, Cierra Cellerari, Michael Iorio and Zach Jones from the Northeastern Pennsylvania area. Their wide range of musical tastes allows for them to produce a sound and show suitable for audiences of all ages and musical interests. With nearly 20 years of experience between them, they offer a professional and polished sound every time they take the stage.
The Beer
As the name suggests, the Hive Taphouse offers a serious range of beers on tap, including regional favorites like Broken Heels IPA by New Trail Brewing; Antler Brown Ale by Barley Creek Brewing and 570 – American Amber Lager by Benny Brewing. Current seasonal selections include draft beer from Pennsylvania brewers such as Wyndridge Cider; Tröegs Independent Brewing; Evil Genius Beer Company; Susquehanna Brewing and Wallenpaupak Brewing. And for current seasonal bottled options, guests can enjoy Sam Adams, Nimble Hill Brewing and UFO Brewery. Unique options like the Salt and Sea (Strawberry Lime) by Flying Fish Brewing out of New Jersey and the Mango Cart by Gold Road Brewing out of California, are also available. The Hive Taphouse offers energizing beer flights, including "The Fruit Flight," which includes four fruity beers, "The NEPA Flight," which includes beers brewed within 60 miles of Mohegan Pennsylvania, "The Seasonal Flight," which combines the best beers of the season, "The Keystone Flight," which includes some of the best beers brewed in Pennsylvania, and a "Build Your Own" option which lets you create your own flight. In total, The Hive Taphouse features 30+ beers by way of draft, bottle and can. To view the full drink menu, click HERE.
Half-off Tacos and Burgers
Every Tuesday inside The Hive Taphouse, a menu of delicious tacos are offered at half price all-day! Favorites include Cajun Shrimp Tacos, BBQ Pulled Pork Tacos, Smoked Chicken Tacos and more. The Hive Taphouse also features "Burger Wednesdays" where options like the mouthwatering Lone Star (pulled pork, pepper jack cheese, smoke BBQ sauce and marinated banana peppers served on an 8oz beef patty and brioche bun) are also half-price all-day every Wednesday.
The Games
Pro-football fans can head into The Hive Taphouse to catch all the remaining action, including what should be an incredible post-season. Every game is available by way of 12 high-def flat screens that fill-up Mohegan PA's latest and greatest venue. Big upcoming Pro football games include Buffalo @ Cincinnati on Monday, January 2nd (8:30pm). The first round of the playoffs also arrives on Saturday, January 14th! Not to be outdone, all the major upcoming College Football bowl games will also be featured inside The Hive Taphouse!
TopGolf Swing Suites
The Hive Taphouse also features its very own TopGolf Swing Suites located near the main bar. TopGolf Swing Suites is open for all ages, allowing for playful competition across various simulated sports, including golf experiences at virtual versions of Pebble Beach, Bethpage Black or 80 other famous courses. If guests aren't up for golf, they can take a stab at the Quarterback Challenge, Hockey, Zombie Dodgeball, Soccer and more. Walk-ups are accepted as availability permits, though reservations are encouraged. Prices are $20 per person, and guests can visit MoheganPA.com or call 570.985.5759 for more information.
ABOUT MOHEGAN PENNSYLVANIA
Mohegan Pennsylvania, owned by Mohegan, was the first destination to bring gaming to Pennsylvania in 2006 and since then has become one of the premier entertainment, gaming, shopping, and dining destinations in the state. Situated on 400 acres in Plains, Pennsylvania, Mohegan Pennsylvania features a 237-room hotel with on-site spa and adjacent 20,000 square-foot Convention Center. It is currently home to 67,000 square feet of gaming space including nearly 60 live table games, more than 1,700 slot machines and electronic table games, a variety of dining and shopping options, nightlife, entertainment and live harness racing. Mohegan Pennsylvania is within easy access of New York, Philadelphia, New Jersey, and Delaware. More information is available by calling 1.888.WIN.IN.PA (1.888.946.4672) or visiting MoheganPA.com Connect with us on Facebook, follow us on Twitter or Instagram, download our app and view us on YouTube.
# # #