Mohegan, the developer and manager of high-profile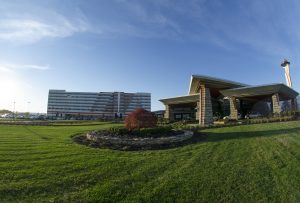 entertainment resorts in the US and beyond, is excited to announce that the first destination to bring gaming to Pennsylvania in 2006, will now be known as Mohegan Pennsylvania.
"We recently refreshed our corporate name, going from Mohegan Gaming & Entertainment to Mohegan," said Ray Pineault, CEO of Mohegan. "Many of our partners, stakeholders and valued guests commonly refer to our brand as 'Mohegan,' so the new title is a strategic decision that truly encapsulates our capabilities and values. To also create synergy across the Mohegan portfolio, especially as we continue to grow in-line with the Mohegan Tribe's vision, destinations like Mohegan Pennsylvania have also rolled out a rebrand."
This refreshed name change follows the rollout of Project Starlight, which will soon include the completion of a $10 million renovation to Mohegan Pennsylvania's 237-room hotel. Other property enhancements as part of Project Starlight include the The Hive Taphouse, which is a new bar and live music venue home to a great entertainment calendar, various flat screens for the big game, 20+ beer options and a full dining menu. The Hive Taphouse is also home to Topgolf Swing Suites where guests can play virtual golf on well-known PGA courses and try their hand at other activities like the Quarterback Challenge. A new seasonal outdoor terrace bar (Embers Terrace), also opened this past summer and quickly became a hot spot for enjoying live music, relaxing by fire pits, playing lawn games, and sipping top-notch wine.
"There is so much to be excited about as we approach the new year and that excitement stems from our dedicated team and leadership," said Anthony Carlucci, President & GM of Mohegan Pennsylvania. "With a new name, revamped hotel, new attractions and the continued unrivaled guest service that has exemplified our brand and all Mohegan properties, we're thrilled about the next phase of Mohegan Pennsylvania."
For more information on all things Mohegan Pennsylvania, visit MoheganPA.com
ABOUT MOHEGAN PENNSYLVANIA
Mohegan Pennsylvania, owned by Mohegan, was the first destination to bring gaming to Pennsylvania in 2006 and since then has become one of the premier entertainment, gaming, shopping, and dining destinations in the state. Situated on 400 acres in Plains, Pennsylvania, Mohegan Pennsylvania features a 238-room hotel with on-site spa and adjacent 20,000 square-foot Convention Center. It is currently home to 67,000 square feet of gaming space including nearly 60 live table games, more than 1,700 slot machines and electronic table games, a variety of dining and shopping options, nightlife, entertainment and live harness racing. Mohegan Pennsylvania is within easy access of New York, Philadelphia, New Jersey, and Delaware. More information is available by calling 1.888.WIN.IN.PA (1.888.946.4672) or visiting MoheganPA.com Connect with us on Facebook, follow us on Twitter or Instagram, download our app and view us on YouTube.
ABOUT MOHEGAN
Mohegan is the owner, developer and manager of premier entertainment resorts in the United States, Canada, and Northern Asia. Mohegan's U.S. operations include resorts in Connecticut, Washington, Pennsylvania, New Jersey, and Nevada; Canadian operations are based in Niagara Falls; and Mohegan Inspire is located in Incheon, South Korea. The brand's iGaming division, Mohegan Digital, provides cutting-edge online gaming solutions to Mohegan's loyal fan base and meets the digital needs of customers on a global scale.  Mohegan is owner and operator of Connecticut Sun, a professional basketball team in the WNBA. For more information on Mohegan and its properties, please visit www.mohegangaming.com.
# # #